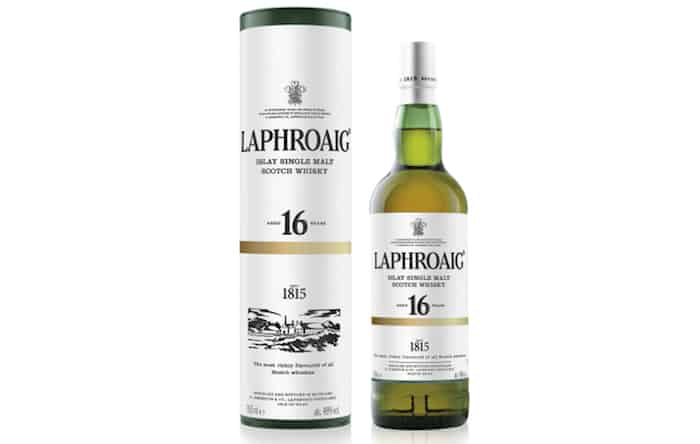 Laphroaig 16-year-old Islay Single Malt Scotch Whisky -750ml
Save

Liquid error (snippets/product-badge line 32): Computation results in '-Infinity'

%
This expression has been matured entirely in first-fill bourbon casks. The nose offers lemon juice squeezed onto hot baked salmon, cooked over a wood fire, then sprinkled with sea salt. Rich, sweet, tropical fruit flavors on the full palate, with honey, barley sugar, peppery oak, and mellow peat smoke. Dark chocolate, dry peat, and black pepper in the long, mildly medicinal finish
The color of OLD is deep gold and NEW is much paler than Jonquiere corn. OLD offers a rather subtle profile composed of the trademark Laphroaig aromas of maritime peat smoke, medicinal notes, and citric fruits. It is nicely balanced and delicious but neither complex nor impressive. NEW's profile is richer but still not bold, I would say. The peat and the wood are much more dominant but still, the fruits, barley sugars, and some earthy-herbal aromas shine through. It is more complex than OLD but not as balanced (hence more modern-stylish). I prefer NEW over OLD (by two points).

NEW's taste is bold and impressive just as we expect from Laphroaig. It offers a fine combination of malty, peaty, and wooden flavors in a much more balanced mix than in the nose. The barley sugars are strong enough to withstand the heavy peaty attacks and the wood is firm but never tries to dominate. It is neither layered nor complex but it is undeniably Laphroaig the way I like it. And what a difference to OLD! OLD is rather shy and subtle with more bitter herbal-wooden notes and an unusual sugary sweetness. Still, this is Laphroaig-ish and easily quaffable, but it is a little too shy and simple for my taste. Again this is a two points advantage in favor of NEW.

OLD arrives warming but just a very little coating on the palate with a minor drying feeling (cold metals). The initial mouthfeel of NEW is much better with a nice coating effect and no distracting moments at all. The finish of OLD is of medium length with even more wood influence but it never grows too strong. There is a minor and tasty milk chocolate note towards the end that I like. NEW's finish is much longer and adds more spices and more medicinal notes which increase the complexity. But there is a minor drying-astringent feeling towards the end which is a little distracting, to be honest (now the tannins of the wood demand their toll). Guess what? This time NEW wins by just one point. Water is not needed on both drams, OLD just gets flattered while NEW gets smoother and more quaffable but less interesting. I like both best when neat.