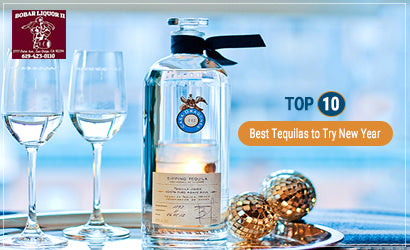 Top 10 Best Tequilas to Try New Year
New Year's eve is coming, and with it, it's bringing all the insane plans your friends might be making. But one thing you will need to make this New Year's Eve a memorable one is alcohol! Tequila is a favourite amongst a range of 1000s of celebratory beverages. Even when it comes to tequila, there is so much variety under every different budget class that everybody is there. This elixir of happiness is famous for margaritas, but tequilas can be used to make a wide variety of cocktails and even be enjoyed as a solo drink neat or on the rocks.
Before we start discussing our tequilas, it's important to know that there are three types; Blanco, reposado, and Anejo. The difference between these three types of tequilas is the ageing process. Blanco or silver is bottled at the youngest out of the three. Reposado is rested for two months to a year and is rested in oaken barrels, where it picks up its mild golden colour. Anejo is the oldest when bottled and aged for at least a year, but less than three years, giving it a golden brown colour. They all vary in flavours and properties. So let's look at our picks for bottles that will make your New Year's Eve memorable!
1.Patron Silver
This crowd favourite is a versatile liquor that can be sipped neat and goes well with cocktails. The citrusy aroma and the slight peppery aftertaste is what makes it unique and a definite go-to. It is perfect for Bloody Mary, Mules, and Mojitos.
2.Don Julio 1942
If you fancy yourself as a connoisseur, this bottle is for you. Its steep price tag is justified by its exquisite taste and rich feel. It is the perfect bottle for really special occasions and is aged for a minimum of 2.5 years in American White Oak barrels.
3. Casamigos Blanco
This bottle has a celebrity heritage to it since the brand was created by George Clooney and Rande Gerber. It is a bottle that will make you seem classy without being a try-hard. This smooth bottle signifies the people who made it, and you can bask in that glory too!
4.Dano's Blanco
Probably the sweetest entry on our list, this tequila is very tasty to sip by itself, and that is exactly why it is perfect for cocktails too. It is made by Mexico's oldest family-owned distillery. Our recommendation to enjoy this award-winning tequila is the pineapple-jalapeño infused variant.
5.Milagro Select Barrel Reserve Reposado
These reposado tequilas are rested in oaken barrels for their signature taste, and depending on the barrel, they all have a unique flavour. Milagro Reposado is rested in American and French barrels for a tequila that goes down easy and has a dry finish.
6.Hornitos Plata Tequila
Not all tequilas need to be super exclusive. If you're looking for a mid-shelf bottle for a casual occasion without sacrificing taste and class, look no further than Hornitos Plata Tequila. It has the rich taste of Agave and citrus notes without you having to burn in a hole in your pockets.
7.Avion Anejo
This bottle of tequila is one of its kind since it is an Anejo that is aged for two years as opposed to the traditional one year or less. This unique differentiator is what gives it its amber colour and aromas of burnt Agaves and peaches.
8.Villa One Silver Tequila
This is another entry that comes from a brand owned by a known celebrity. This brand was established by the famous pop-star Nick Jonas. It is made from Agaves sourced from both highland and lowland Jalisco in Mexico, giving it a very versatile and rich taste.
9.Teremana Reposado Tequila
If you follow The Rock (Dwayne Johnson) for his fitness insights or to just marvel over his accomplishments, you know that he knows his tequilas since they are always a part of his cheat meals. So this brand launched by him comes from a place of assurance of quality!
10.El Jimador Silver
The last entry on our list is again for people who've been scouring this list for something classy yet affordable. El Jimador is made from hand-harvested Blue Agaves that make this tequila perfect for any cocktail!