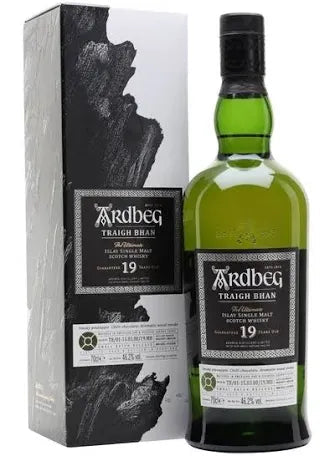 Ardbeg19 Years Traigh Bhan BATCH N°4 Single Malt Scotch whiskey -750ml
THE TIDES HAVE TURNED
Matured in a slightly higher proportion of Oloroso Sherry casks, this sublime 19-year-old whisky is the epitome of an aged Ardbeg. Part of a highly sought-after and collectible Ardbeg series, Batch 4 is the latest expression. This sublime Traigh Bhan, like the bottles before it, was inspired by Islay's Traigh Bhan beach (pronounced tri-van).
Ardbeg Traigh Bhan masterfully performs the impossible – balancing the lull and crescendo of its intense flavors. Bottled under a full moon, the tides have turned for this rare spirit as more menthol, and herbal notes rush the senses, with intense smoke left behind in its peaty wake.
COLOUR
Sunset Gold
AROMA
On the nose, rising aromas of herbal pine and fennel flow into sharp notes of citrusy lime sorbet and medicinal lozenge, while eucalyptus and saddle soap follows on the breeze. A splash of water releases a cascade of hazelnut, sweet vanilla, and currants before rich minted chocolate brings the nose to a close.
TASTE
An intense wave of wood smoke crashes over the palate, leaving ripples of decadent dark chocolate and ground coffee in its wake. Sweeter notes of lemon curd and peanut brittle cut through the swell to reveal delicate hints of creamy raisin fudge and hazelnut.
The allure of this rare dram continues with suggestions of more medicinal, spicy notes. Menthol, fresh lemongrass, aniseed, clove, and white pepper emerge from rich, smoky depths.
FINISH
Sweet and peat collide with creamy vanilla fudge, dark cocoa powder, and a warm, woody clove tingle. A sharp, intense, and satisfyingly long finish.
Non-chill-filtered at 46.2% ABV
Batch code: TB/04-07.03.2003/22.CG