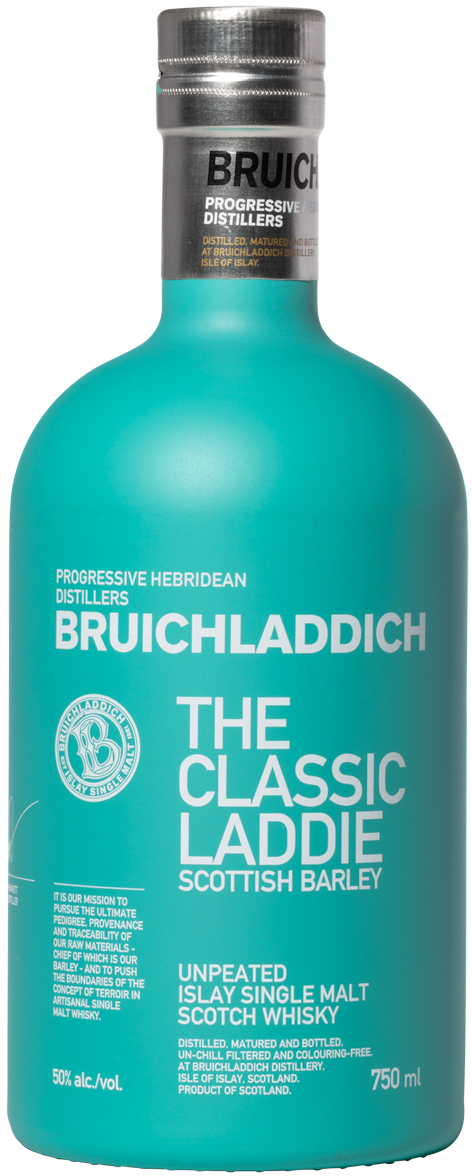 Bruichladdich The Classic Laddie Scottish Barley Single Malt Scotch Whiskey -750ml
Bruichladdich's Classic Laddie is an unusual introduction to an Islay Single Malt Whisky Distillery. One of the few 100% unpeated Single Malts from the remote Scottish island of Islay, Bruichladdich strives to challenge the conventions of the Scotch Whisky category by offering drinkers full transparency on what goes into every batch. Distilled from 100% Scottish grown barley, each bottling of Classic Laddie is crafted in multi-vintage batches of different American and French oak cask types
CHARACTER – Smooth as pebbles in a pool. It's clean, fresh, and lively with both the oak and the grain in perfect harmony.
COLOUR – Sunlight on fields of early summer barley.
NOSE – The bouquet is brilliant. Opening with barley sugar and a hint of mint before leading into the most wonderful notes of freshly cut wildflowers; buttercup, daisy, meadowsweet, myrtle, primrose, and cherry blossom. The cleanliness of the spirit is remarkable. As the second's tick by, more aromas rise from the glass, little zephyrs of spindrift and sea pinks reminding you that this spirit is matured exclusively by the sea. After some four or five minutes and with the addition of a little water, caramelized fruits drift onto the scene; lemon drops and honey, tangerine, and tablet.
PALATE – The palate entry is so refined and refreshing, the sweet oak and the barley arriving together sending the taste buds into raptures. The fruits from distillation drift in on an Atlantic breeze and pop on the tongue like champagne bubbles. A combination of ripe green fruit, brown sugar, and sweet malt brings closure. A taste back in time, a realization that not all single malts are equal and to achieve the absolute optimum, you must use barley that is made in Scotland. Make this one the benchmark for all others you meet on your journey through the stills of Scotland.
FINISH – Unforgettable! It's best enjoyed in good company, you just don't want the evening to end. It brings warmth to the heart and soul. The clock slows down and the cares of tomorrow disappear into the dawn.
MOOD – Conviviality! Relaxed, enjoying the spirit in the glass and the laughter from tales often told but never tired of hearing.