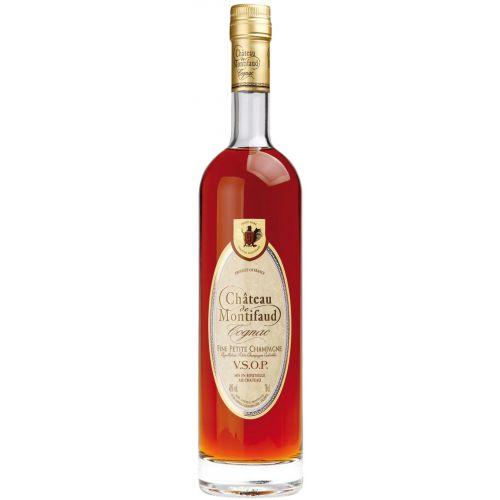 This release comprises a blend of eaux-de-vie from the Petite Champagne growing region. The wines for the Chateau de Montifaud VSOP Cognac have been made exclusively from Ugni Blanc grapes and stored on the lees for 2-3 months before distillation to create a superb, bold character full of grapevine and fruit flavors. 
New oak casks are used for the first year of maturation, after which the eaux-de-vie are transferred into old oak (4-15 years old) for the remaining ageing time. The total process can take up to ten years - much longer than the four-year minimum required for a VSOP. With such an extraordinary suppleness and delicacy on the palate complemented by sweet hints of pear and apricot, we say this Cognac is worth the wait. 
Eye: Dark antique amber. 
Nose: Touches of flowers on the vine, but equally of linden and wildflowers - even more present than in the VS. Given time, the aroma slowly shifts from fresh to dried florals. 
Palate: Dominated by pears, apricots, and nuts. Suppleness and delicacy on the palate leading to a superb, long finish.