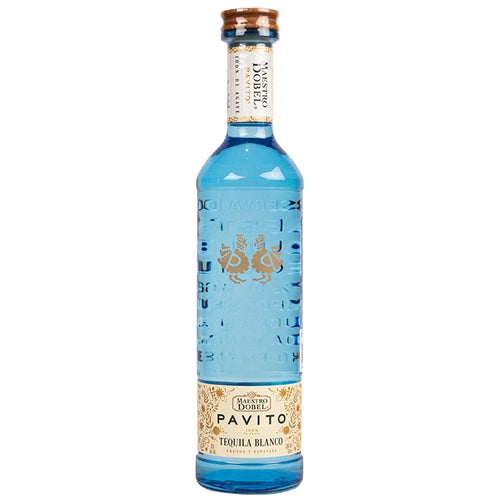 MAESTRO DOBEL PAVITO
A first-of-its-kind tequila to use pechuga, or turkey breast, to enhance and elevate the category. Pavito begins with a base of Maestro Dobel's Silver tequila double distilled in copper pot stills- achieving the smoothness that Dobel tequilas are known for. After a brief period of macerating the fruits and spices, third distillation is performed - a first for the Maestro Dobel portfolio - during which the pechuga is placed at the top of the still. The tequila vapors are thus infused with the aromatics of the fruits, spices, and savory turkey breast. This intensifies the tequila, creating layers of complexity in the resulting liquid. 
Color: The result is a clear, bright, and light-bodied liquid, with slight silvery undertones.
test: A smooth, yet complex and balanced liquid with layers of rich, savory notes.
Hints of cooked agave, sugar cane, fruits, spices (cinnamon, pepper), and tejocote fill the palate.
Aroma:  Floral, citric. Fresh notes of mint, peppermint, chlorophyll, lemon tea and anise, cooked pineapple plum, and tejocote (Mexican hawthorn). Very subtle smoky notes.
Sip: An incredibly smooth liquid. The sweetness is tasted at first, then it gradually fades to bring the presence of a savory and strong character.